▇ SDShark SD & MicroSD Duplicator
▇ SDDupeBox SD & MicroSD Duplicator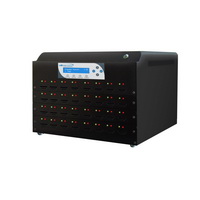 - High Speed Duplication - 39 MB/sec
- Support SD, SDHC, microSD, microSDHC
$4,620.00
$3,695.00
SAVE $925.00(20%)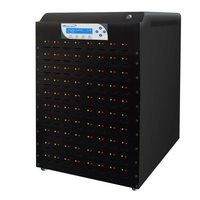 - High Speed Duplication - 79 MB/sec
- Support SD, SDHC, microSD, microSDHC
$9,370.00
$7,495.00
SAVE $1,875.00(20%)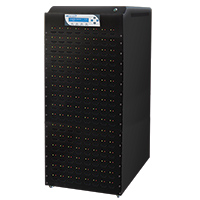 - High Speed Duplication - 79 MB/sec
- Support SD, SDHC, microSD, microSDHC
$14,995.00
$11,995.00
SAVE $3,000.00(20%)
▇ SDDupeBoxES SD & MicroSD Duplicator
Get the Right SD Duplicator for the Right Job
Many individuals and businesses today find that they need to back up or distribute content on SD or microSD cards. The most effective way to do this is to get an SD card duplicator that creates quality, precise copies of a card. For a person who simply wants to create an occasional backup, inexpensive duplicators are available that create one to three cards at once. Businesses that need many copies of cards will find that the most cost effective purchase is the one that gives the desired number of copies the first time. For this reason, RunTechMedia carries powerful duplicators that are capable of creating up to 63 copies at once.
What Is a Duplicator?
A SD duplicator makes genuine copies of four types of cards. They support the following formats:
SD
MicroSD
SDHC
MicroSDHC
What Are the Cards?
The four compatible cards types are similar but different:
SD (Secure Digital) - This is a memory card that is approximately the size of a postage stamp. It has up to 2GB of memory and is used in devices such as computers, cell phones, cameras, camcorders, PDAs, and MP3s.


SDHC (Secure Digital High Capacity) - This card is newer to the market and contains 4GB to 32GB of memory. It is designed to be used not just to extend the amount of information stored, but also to speed up the function of some of the higher-memory versions of the same devices which take SD cards.


MicroSD - This is the smallest memory card currently on the market and is approximately one fourth of the size of SD cards. It holds from 16MB to 32MB of memory. Some of the devices that use these cards are: GPS devices, audio players, media players, USB flash drives, digital cameras, and Nintendo DS flashcards.


MicroSDHC - While this card is the same size as the microSD, it holds from 4GB to 64GB of memory. It makes devices run faster due to the increased memory, and devices indicate which of the two micro cards they take.


Call Us Today!
We make ordering easy by allowing you to take advantage of our best deals online or by phone. If you have any questions about the SD duplicator you are looking at, please call (866) 656-8999 to speak to a customer service representative. Order today!