MiniLoader VDX-1 1 Target Automated Duplicator - Blu-Ray Burner

- Supports BD, DVD, DVD DL, & CD formats

In Stock

1 Years Limited

Free Shipping
MiniLoader VDX-1 1 Target Automated Duplicator - Blu-Ray Burner

- Supports BD, DVD, DVD DL, & CD formats

In Stock

1 Years Limited

Free Shipping
Did you ever feel you could use the convenience of an autoloader when copying Blu-ray discs but didn't have the quantity to justify the need or investment? The MiniLoader VDX-1-BD will eliminate all doubts. Whether you duplicate 2 or 3 discs at a time or 50 to 100 a day, this automated Vinpower duplicator with Blu-ray disc burner is the most affordable and compact disc autoloader on the market. With 50 disc capacity and 1 Blu-ray recording drive, the MiniLoader VDX-1-BD gives you the ability to work on other matters with the confidence that your project will be duplicated quickly and reliably, completely unattended. You get all this for a price competitive with a standard manual tower duplicator. Do not be confined by your duplicator, let the MiniLoader VDX-1-BD free you to increase your potential.
Complete Standalone Operation: No PC required to operate the duplicator.
Reject Bin: System can automatically discard discs that did not burn properly, ensuring the defective discs are not mixed up with your successfully copied discs and does not disrupt the job by remaining in the drive tray until it's manually taken out.

Supports all currently available recordable Blu-ray media (BD-R & BD-R DL) including Double layer

:

Can duplicate Single Layer 25GB BD-R/RE and Double Layer 50GB BD-R/RE Formats.
Supports all currently available DVD media including Double/Dual layer Feature: Can duplicate Single Layer DVD±R/RW and Double/Dual Layer DVD±R Formats.
Auto DVD Format Conversion: Can convert media between DVD+R/RW and DVD-R/RW automatically.
Large disc capacity: Copies up to 50 discs per run.
Multi-Master Recognition Technology (MMRT): Can load multiple masters at once to run multiple duplication jobs in succession.
Disc Alignment Protection Feature: Automatically ejects and closes the tray when the media wasn't properly placed.
Auto-Copy feature: System starts duplication process automatically by assuming the 1st disc in the input bin is the master disc and remaining are the blanks.
Supports Manual Duplication Mode.
Continuous Hard Drive Partitioning: The HDD partitions are created without limitations using the same amount of space as the actual content size on the disc. No longer do you have to worry about loosing valuable HDD capacity because your duplicator allocates the exact space required without wasting space like standard partitions on other controllers.
Supports all common CD Formats with Additional Special format including CD-TEXT, ISRC, Over-Burned CD.
Multi-Language capability for English, Spanish and French: The text on the LCD screen can currently be displayed in English, Spanish and French.
Drive firmware upgradeability: Capable of upgrading the drives for selected brands through the Duplicator.
User friendly interface with LCD display: Offers easy to recognize and use terms and operations on the LCD display for simple usage.
Auto-Counter Technology: Displays the total number of discs successfully copied compared to desired output for each project.
Account management (password protection): This function will authorize only specific user(s) to operate the duplicator with their preferred settings. Able to assign numerous passwords for multiple users.
Power on Self diagnostics: Keeps the duplicator functioning optimally.
Disc Info feature: Provides the format of the disc & the disc manufacturer's information.

Selectable CD, DVD, and BD burning speeds:

Ability to increase or decrease duplication speed for supported formats.
Hard Drive Partition/Image Name Editing: Simply stated you can name the images stored on the hard drive partitions.
Supports all currently available DVD media including Double/Dual layer DVD9: Can duplicate Single Layer DVD±R/RW and Double/Dual Layer DVD±R Formats.
Automatic format recognition: Duplicator recognizes automatically if the discs are CD, or DVD as well as the correct format to copy.
Upgradeable for future drive technology: Able to upgrade duplicator for installation of future drives.
Future functions upgradeable through firmware: Duplicator able to upgrade future software updates via Firmware.
Continuous copying without waiting for cool down: No need to stop the duplicator for fear of overheating.
Model:

MiniLoader VDX-1 BD / DVD / CD Automated Duplicator

MPN:
VDX-1-BD
Operating Type:
Stand-alone Automated
Targets:
1
Max Disc Capacity:
50
Account Management:
32 users (Standard License) or 64 users (Premium License)
Partition Naming:
Up to 14 Characters Per Partition
Internal Interface:
SATA
Auto Counter:
Yes
Language Support:
English, Spanish, French, German, Italian, Japanese, and more (Chinese can be ordered on request)
Display:
20 x 2 Blue LCD
Featuring Recorder:
12x BD/DVD/CD Writer(s)
Hard Drive:
1 TB
Maximum Copy Speed:

| | |
| --- | --- |
| BD-R: 12x | BD-RE: 2x |
| BD-R DL: 12x | BD-RE DL: 2x |
| DVD-R: 16x | DVD-RW: 6x |
| DVD+R: 16x | DVD+RW: 8x |
| DVD-R DL: 8x | DVD+R DL: 8x |
| CD- R: 40x | CD- RW: 24x |

Formats Supported
BD-ROM, BD-R, BD-RE
BD-R Double Layer, BD-RE Double Layer
DVD-ROM, DVD-Video, DVD-Audio
DVD-R, DVD-RW, DVD+R, DVD+RW
DVD+R Double Layer, DVD-R Dual Layer
CD-ROM (Mode1 & Mode2)
CD-ROM/XA (Mode2 form1 & form2)
CD-DA, Mixed-Mode
Video CD, CD-I, Karaoke CD(VCD)
Photo CD (Single & Multi- session)
CD-Extra, HFS, CD-Bridge
ISO9660, CD-R, CD-RW
Firmware Upgradable:
Yes
Burn Proof Support:
Yes
Physical Size:
Width 11.9" x Depth 12.1" x Height 8.1"
Weight 11.9 lbs
Power Supply:
Input : 90 ~ 240 V
Operating Humidity:
20% ~ 80%
Temperature Extremes:
40oC (104oF) / 5oC (41oF)
Regulation:
RoHS
Manufacture:
Vinpower Digital

Important Notice
The duplicator will not copy any copy protected discs.
The actual maximum writing speed may vary. Blank media writing speed is determined by the drives, regardless of what the media manufacturer certifies the blank media writing speed at.
You May Also Like
29% Off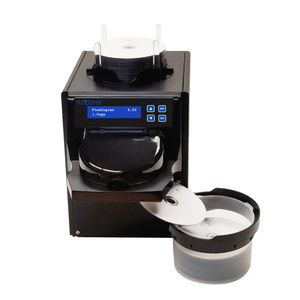 $565.00 $399.00
21% Off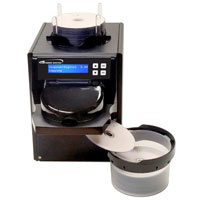 $565.00 $449.00
18.0
12.0
16.0
15.0
VDX-1-BD
VDX-1-BD
Vinpower Digital