The Cube 3 Targets Automated Duplicator - DVD Burner

- Supports DVD, DVD DL, & CD formats
- Free USB CopyConnection & Copy Protection

In Stock

2 Year Limited

Free DVD Blank Media

Free Shipping
The Cube 3 Targets Automated Duplicator - DVD Burner

- Supports DVD, DVD DL, & CD formats
- Free USB CopyConnection & Copy Protection

In Stock

2 Year Limited

Free DVD Blank Media

Free Shipping
Do you have occasions where you need to make a few quick copies of a project but didn't have the time to run them through your computer or on a manual tower and didn't have the budget for the larger robotic duplicators? The Cube™ is the perfect solution for a multi DVD burner. With a small manageable footprint not much larger than a shoe box, The Cube™ fits in any office or cubicle and works unattended to make 60 copies per run. Plus at an incredibly low price point, The Cube™ fits nearly any budget. With 60 discs capacity and 3 recording drives, The Cube™ gives you the ability to work on other matters with the confidence that your project will be duplicated quickly and reliably without breaking the bank. The Cube™ is small but mighty.
Model:

The Cube™ Automated SATA DVD/CD Duplicator

MPN:
CUB60-S3T
Operating Type:
Stand-alone Automated
Targets:
3
Max Disc Capacity:
60
Account Management:
32 users (Standard License) or 64 users (Premium License)
Partition Naming:
Up to 14 Characters Per Partition
Internal Interface:
SATA
Auto Counter:
Yes
Language Support:
English, Spanish and French
Display:
20 x 2 Blue LCD
Featuring Recorder:
24x DVD/CD Writer(s)
Hard Drive:
500 GB
Maximum Copy Speed:

| | |
| --- | --- |
| DVD-R: 24x | DVD-RW: 6x |
| DVD+R: 24x | DVD+RW: 8x |
| DVD-R DL: 12x | DVD+R DL: 8x |
| CD- R: 48x | CD- RW: 32x |

Formats Supported
DVD-ROM, DVD-Video, DVD-Audio
DVD+R Double Layer, DVD-R Dual Layer
DVD-R, DVD-RW, DVD+R, DVD+RW
CD-ROM (Mode1 & Mode2)
CD-ROM/XA (Mode2 form1 & form2)
CD-DA, Mixed-Mode
Video CD, CD-I, Karaoke CD(VCD)
Photo CD (Single & Multi- session)
CD-Extra, HFS, CD-Bridge
ISO9660, CD-R, CD-RW
Firmware Upgradable:
Yes
Burn Proof Support:
Yes
Physical Size:
Width 8.5" x Depth 16" x Height 14 "
Weight 25 lbs
Power Supply:
Input : 90 ~ 240 V
Operating Humidity:
20% ~ 80%
Temperature Extremes:
40oC (104oF) / 5oC (41oF)
Regulation:
FCC, CE, RoHS
Manufacture:
Vinpower Digital
Throughput Capacity Per Hour:

Target
1
2
3
Auto: 350 MB CD


*at 48x duplication speed

21
38
51
Auto: 2.5 GB DVD


*at 16x duplication speed

11
20
30


Important Notice

The duplicator will not copy any copy protected discs.




The actual maximum writing speed may vary. Blank media writing speed is determined by the drives, regardless of what the media manufacturer certifies the blank media writing speed at.
About Copy Protection
Vinpower Digital has developed the first true standalone duplicator which can offer embedded copy protection. The unique Copy Protection Software (CPS) can embed a proprietary copy protection encryption into any DVD video master through a PC which can then be transferred onto the Vinpower Digital duplicator to produce as many copy protected reproductions as the user needs. Since CPS is software based as apposed to hardware based, there are no issues with compatibility with players like similar models on the market. In addition, CPS protects against both duplication and ripping for a double dose of protection whereas similar applications from competitors cannot block ripping.

In today's savvy hi-tech world, consumers are often purchasing a single video and making copies for their friends which limit the overall sales. If you worked hard and put in a lot of effort and expense into creating your video project, you shouldn't be restricted in the number of units you can sell because you can't afford the high price of replicated copy protection. Instead by using Vinpower Digital's CPS, you can feel secure at a fraction of the expense and time with no minimum or maximum quantities required.


How Copy Protection Works:
1. Load the supplied CPS software onto a suitable PC.
2. Plug in the CPS USB dongle with activated licenses into your PC's USB socket.
3. Take your DVD video master disc or file and by utilizing the special CPS application, follow the steps to embed the copy protection onto the master content.
4. Transfer the new copy protected master content from the PC onto an enabled duplicator via USB/Copy Connect or LAN/Network connectivity.
5. Load blank DVD recordable discs into the duplicator's writer drive(s) then locate the transferred file through the duplicator's menu keys from the internal hard drive
6. Initiate the copy process and when the finished discs all successfully copy, these discs will have the copy protection already embedded.
You May Also Like
20% Off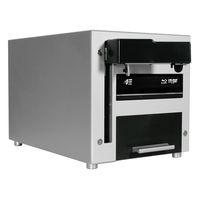 $1,320.00 $1,055.00
20% Off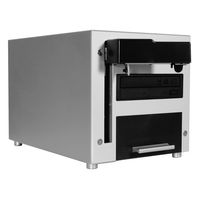 $750.00 $599.00
20% Off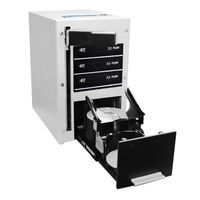 $2,920.00 $2,335.00
15.0
22.0
23.0
/spree/covers/3951/original/Cub60S3t-B.jpg
32.0
CUB60-S3T
CUB60-S3T
Vinpower Digital