Titan Pro 6 Target Automated CD DVD Duplicator w/ 1000 Disc Capacity

- Supports DVD, DVD DL, & CD formats

In Stock

2 Years Limited

Free Shipping
Titan Pro 6 Target Automated CD DVD Duplicator w/ 1000 Disc Capacity

- Supports DVD, DVD DL, & CD formats

In Stock

2 Years Limited

Free Shipping
The DVD format has grown rapidly in a short time. More and more people are storing important information onto DVD which they require to generate multiple copies for business or recreation. When you need high volume duplication with minimal manpower, the Vinpower Digital TITAN PRO DVD/CD Autoloader series is the solution. The TITAN PRO automated DVD duplicator is a complete standalone unit (no computer interface required) and provides hands free, high speed, quality mass duplication with minimal user interaction. The extremely user friendly interface with an easy to read LCD display allows for smooth and easy set-up operations. The CD autoloaders have all the features of the manual towers with the added benefit of a robotic arm to relieve the user of the need to manually change the discs after every duplicating session. This is tremendously useful when doing large volume duplication. With our Multi-Master Recognition Technology (MMRT)*, the CD autoloader can duplicate numerous masters in succession during a single run. The DVD/CD Autoloader will automatically handle the entire process while you're free to take care of other matters. The robotic arms are programmed to help reduce errors from sticky media through our separation technique. This process will help eliminate loading multiple discs in the same tray, stopping the duplication process due to faulty media. The Autoloaders are built to last and provide high quality duplications well into the future.
Model:

Titan Pro™ Automated SATA DVD/CD Duplicator

MPN:
PRO1000-S6T-BK
Operating Type:
Stand-alone Automated
Targets:
6
Max Disc Capacity:
1000
Account Management:
32 users (Standard License) or 64 users (Premium License)
Partition Naming:
Up to 14 Characters Per Partition
Internal Interface:
SATA
Auto Counter:
Yes
Language Support:
English, Spanish and French
Display:
20 x 2 Green LCD
Featuring Recorder:
24x DVD/CD Writer
Hard Drive:
500 GB (Capable of selecting higher capacity HDD)
Maximum Copy Speed:

| | |
| --- | --- |
| DVD-R: 24x | DVD-RW: 6x |
| DVD+R: 24x | DVD+RW: 8x |
| DVD-R DL: 12x | DVD+R DL: 12x |
| CD- R: 48x | CD- RW: 32x |

Formats Supported
DVD-ROM, DVD-Video, DVD-Audio
DVD+R Double Layer, DVD-R Dual Layer
DVD-R, DVD-RW, DVD+R, DVD+RW
CD-ROM (Mode1 & Mode2)
CD-ROM/XA (Mode2 form1 & form2)
CD-DA, Mixed-Mode
Video CD, CD-I, Karaoke CD(VCD)
Photo CD (Single & Multi- session)
CD-Extra, HFS, CD-Bridge
ISO9660, CD-R, CD-RW
Firmware Upgradable:
Yes
Burn Proof Support:
Yes
Physical Size:
Width 20" x Depth 26" x Height 29"
Weight 95 lbs
Power Supply:
Input : 90 ~ 240 V
Operating Humidity:
20% ~ 80%
Temperature Extremes:
40oC (104oF) / 5oC (41oF)
Regulation:
FCC, CE, RoHS
Manufacture:
Vinpower Digital
Throughput Capacity Per Hour:

Target
4
6
8
Auto: 350 MB CD


*at 48x duplication speed

60
78
88
Auto: 2.5 GB DVD


*at 16x duplication speed

36
48
56


Important Notice

The duplicator will not copy any copy protected discs.




The actual maximum writing speed may vary. Blank media writing speed is determined by the drives, regardless of what the media manufacturer certifies the blank media writing speed at.
Example of Multi- Master Recognition Technology:
Traditionally, autoloaders can only handle one duplication job at a time and additional manpower is needed to load a new duplication job (ex. Load new master disc, insert more blank discs, etc.) Now, with this totally revolutionized auto-master recognition technology, the TITAN PRO™ can handle multiple duplication jobs per run by itself. For example, if you want to make 20 copies of job A, 50 copies of job B, and 10 copies of job C. Traditional autoloaders will only process one job per run and need someone to load job B and job C to the autoloader. However, with the TITAN PRO™ featuring MMRT, it will process all three jobs sequentially per run by itself, without the need to load and reload additional master disc. This process affords the user more time to dedicate to other matters rather than keeping a constant eye on the autoloader.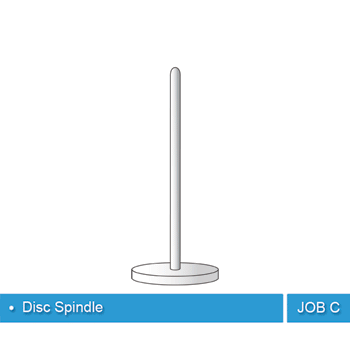 You May Also Like
26.0
33.0
32.0
110.0
PRO1000-S6T-BK
PRO1000-S6T-BK
Vinpower Digital